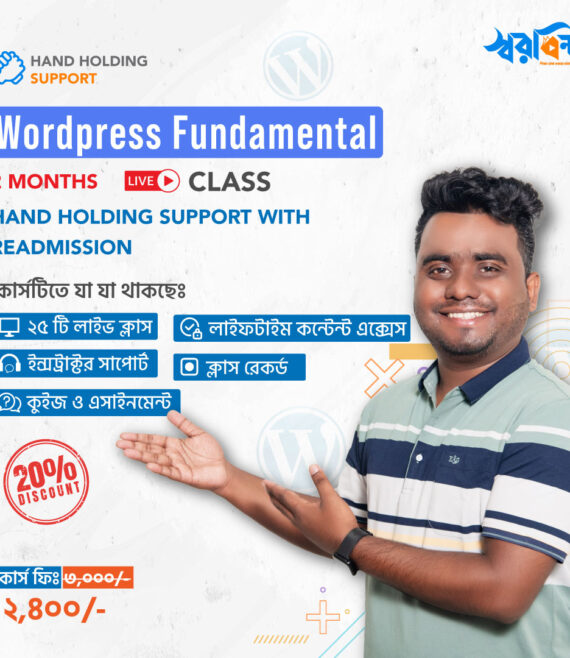 WordPress Fundamental With Page Builder Live Class, 2 Months Hand Holding Support
রেজিষ্ট্রেশনের শেষ সময়: 03/February/2023

25 Live Class,
Course Duration: 2 Months, 25 Live Classes, Class Duration(2-3 hours), 3 Classes per week.
Platform: Class will be in SoroBindu Hand Holding Software with all the features(Practice, Quiz, Assignment, Assignment Review and Marking, Group Study, Class material & Snippet etc…)
Certificate: After completing all the classes & Final exams and then Certificate.
Call 01889972995 / 01889972999 for more details.
Description
কি কি আছে হ্যান্ড হোল্ডিং সাপোর্টে হ্যান্ড হোল্ডিং সাপোর্ট আসলে কি?
এটা একটা ভালোবাসার নাম, একটা চ্যালেঞ্জ, একটা কমিটমেন্ট আপনাকে সফল বানানোর।
লাইভ ক্লাস, প্রতিদিনের গোল ধরে ধরে প্র্যাকটিস করানো, গ্রুপ স্টাডি, প্রতিটা ক্লাসে কুইজ, এসাইনমেন্ট, আপনি কেমন করছেন না করছেন এর জন্য ফুল ট্র্যাকিং সফটওয়্যার, লাইফ টাইম সাপোর্ট থেকে শুরু করে এমন কি নাই…
আপনি যদি একবারে সাকসেস না হতে পারেন বা কোন কারনে ক্লাস করতে না পারেন তাহলে, কোন ফি ছাড়াই আবার নতুন করে অন্য ব্যাচে ক্লাসের সুযোগ করে দেয়া হয়, মানে আপনি যদি একবার Hand Holding Support নেন তবে সফল না হওয়া পর্যন্ত আমরা আপনাকে ছাড়ছিনা✊ হ্যান্ড হোল্ডিং সাপোর্টের বিশেষ বৈশিষ্ট্য সমূহঃ Concept about web design & development. WordPress Installation at xampp & live server.
Class-01
In-Depth Introduction & Usages Of WordPress Dashboard, Themes, Plugins.
Class-02
Basic Concept about Astra theme & Elementor plugin
Class-03
In-Depth Astra theme & Elementor plugin
Class-04
Elementor pro (custom font, custom icon, theme builder)
Class-05
Build a full website from scratch by Elemento & Elementor pro with Responsive
Class-06
WPBakery Page Builder & YellowPencil CSS Editor Plugin
Class-07
Salient premium theme, VC clipboard plugin, Ultimate VC Addons plugin, WP show more plugin, Smart slider 3 plugin
Class-08
Build a full website from scratch with WP Bakery Page Builder
Class-09
Divi premium theme & Divi builder plugin (Free license with lifetime update)
Class-10
In-depth Divi premium theme, Divi Supreme plugin, Divi Essential Plugin, Divi Carousel Plugin
Class-11
Build a full website from scratch by Divi Theme & Divi Builder With Responsive
Class-12
Newspaper/Magazine Website by jNews premium theme, WP content copy protection plugin
Class-13
In-depth jNews premium theme, Translate WordPress with GTranslate plugin, Elementor pro Header, Footer build
Class-14
Business/Corporate Website Requirements, Essential premium theme
Class-15
In-depth Essential premium theme, Wonder Lightbox Plugin, Slider Revolution premium plugin
Class-16
Portfolio Website Requirements, Trydo premium theme
Class-17
Portfolio website by The7 premium theme, Slider Revolution premium plugin
Class-18
Landing page requirements, Phlox pro premium theme
Class-19
Dynamic form design & development with Contact Form 7 plugin, Contact Form 7 Database Plugin and Gravity forms
Class-20
Slider Revolution Premium plugin, Slider Revolution addons plugin, Dynamic slider with blog post, Dynamic slider eCommerce product
Class-21
Depth concept about domain & various hosting, Bandwidth, FTP, Webmail, Email forwarder, Automatic backup setup with UpdraftPlus plugin, Website manual migration, Migrate Guru Plugin, Duplicator Premium Plugin, All in one wp migration premium plugin, WP Clone plugin
Class-22
Avada Theme Customization
Class-23 এই কোর্সে জয়েন এর জন্য যা যা লাগবে হ্যান্ড হোল্ডিং সাপোর্টের LMS সফটওয়্যার যেভাবে 𝐇𝐚𝐧𝐝 𝐇𝐨𝐥𝐝𝐢𝐧𝐠 𝐒𝐮𝐩𝐩𝐨𝐫𝐭 এ জয়েন করবেন এবং পেমেন্ট করবেন...
𝐇𝐚𝐧𝐝 𝐇𝐨𝐥𝐝𝐢𝐧𝐠 𝐒𝐮𝐩𝐩𝐨𝐫𝐭 এ পেমেন্ট করার পরবর্তীতে সময়ে কি করনীয়...
(Visited 8,890 times, 1 visits today)